Battery Grip for Nikon D600 D610 MB-D14 + 2 EN-EL15 Battery, Charger, Remote 754292436879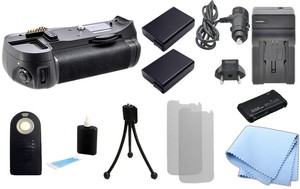 ---
  Battery Grip for Nikon D600 D610 MB-D14 + 2 EN-EL15 Battery, Charger, Remote • The Multi-Power Battery Grip is designed specifically for the Nikon D600 DSLR camera and accepts one Nikon EN-EL15 battery. With one battery in the grip and one in the camera, your shooting time is effectively doubled. Also holds and utilizes 6 AA batteries. Two battery trays, one for the EN-EL15 and one for the 6 AAs, are included. This grip allows for a comfortable and secure to hold your DSLR, especially in the vertical position. • (2) ENEL15 Long Life Batteries - The EN-EL15 Lithium-Ion Battery is a rechargeable battery for the Nikon D600, D7000, D7100, D800, D800E and the Nikon 1 V1 cameras. Lithium-ion batteries will not suffer from the adverse memory effects that are normally associated with other battery types. • AC/DC Turbo Charger - Input: AC 100-240V 50/60Hz, Output: DC 4.2V, for 110-220v for Nikon. Includes Battery Charger, Car Charger, and 110/220V European Travel Adapter Plug • Universal Wireless Remote - The Wireless universal remote control is the perfect accessory to keep your images sharp when doing macro work. By not touching the shutter release button, prevent camera shake. Works with most Canon, Nikon, Sony, Olympus and Pentax DSLR cameras. • All-In-One Card Reader - All-In-One Card reader has 7 Rapid data transfer slots. Reader supports, reads & writes all information from and to all memory cards. Compatible with all versions of SD/HC, MicroSD, CF, XD, MS/PRO & Duo cards. • Deluxe Starter Kit - Includes: - Mini tabletop tripod - Lens cleaning fluid - Cleaning cloth - 2 universal screen protectors - 5pc cotton swabs ​
| | |
| --- | --- |
| Brand | EcostConnection |
| SpecificName | MPN |
| SpecificValue | Ecc-3ljfam33j1888 |
| MPN | Ecc-3ljfam33j1888 |
This Package Includes the Following Items:
All-In-1 Card Reader with Built-In USB Cord All-in-1 card reader works with just about every type of memory card available. It has a built-in USB cord for added convenience. Compact and lightweight too
Battery Charger for Nikon EN-EL15 (Black) ENEL15 battery charger for Nikon EN-EL15 lithium Ion Batteries
Replacement Battery for Nikon EN-EL15 (Black) (x2) Replacement lithium Ion battery for Nikon EN-EL15. For Nikon 1V1, D600, D7000 & D800 cameras.
Digital Camera Battery Power Grip for Nikon D600 DSLR
Complete Camera Deluxe Starter Kit Package Includes • Mini tabletop tripod • Lens cleaning fluid • Cleaning cloth • 2 universal screen protectors • 5pc cotton swabs Keywords: CANON CAMERAS T1i T2i T3 T3i T4i T5 T5i T6i T6S SL1 10D 20D 30D 40D 70D 5D 5DS 5DII 5DIII 6D 1D 50D 60D 7D 7D II 80D 5DS R NIKON CAMERAS D5000 D5100 D5200 D5300 D5500 D4S D40 D40X D50 D70 D70S D80 D3000 D3100 D3200 D3300 D90 D7100 D600 D610 D700 D300 D300S D800 D800E D750 D810A D1H D2H D2X D3 D3S D3X D4 DL24-500 D500 D5 D7200 SONY CAMERAS A99 A58 A65 A390 A350  A200 A230 A700 A37 A35 A550 A77  MARK II A7S II  A7R II OLYMPUS CAMERAS OM-D E-P15 E-P5 E-PM2 E-5 E-P2 E-P1 E30 E-620 PEN-F E-M10 PENTAX CAMERAS 645D K-01 K30 K5 K5II  K5IIS KR KX K7 K3  K50 K500 K70 K-1  K-3 II K-S2 Panasonic Leica Fujifilm Fuji Lithium-ion digital DSLR SLR battery batteries charger
Wireless Universal Remote Control for Canon/Nikon/Sony/Olympus and Pentax DSLR Cameras Wireless universal remote control is the perfect accessory to keep your images sharp when doing macro work. By not touching the shutter release button on the camera, you prevent camera shake. The wireless remote also lets you keep yourself in the pictures without being limited to a wired distance from the camera. It is made to work with most Canon, Nikon, Sony, Olympus and Pentax DSLR cameras.
General Information

Payment

We are a leading direct-to-consumer e-commerce retailer specializing in digital photo and video cameras accessories, consumer electronics and peripherals at highly discounted prices.

Our company is small enough to provide great one-on-one service. And at the same time, we're large enough to buy high volume which passes the discounts onto you. You can be assured we will be here for many years to serve all your future needs.

We work very hard to treat our customers great. You can be sure you'll receive the best service possible. Check out our great feedback and see what customers are saying about us.

For assistance and if you need further information, please contact us by message us and one of our representatives will get back to you as soon as possible.

Shipping & Return

Customer Support

We currently ship anywhere in the US for free. We ship within 1-2 business days after receiving cleared payment. Please be aware that weekends and holidays are not business days. Please note: we currently DO NOT ship internationally. If you're shipping to an international address, please do not bid.  We ship only to the United States of America. We do combined shipping, just please message us first.

We will send you the tracking number once it is available.

We offer customers a 30 day return/exchange privilege policy. When returning an item please contact customer service by messaging us through so that we can provide you with a (RMA) Return Merchandise Authorization number. If returned without an RMA the customer will be responsible for the return shipping charge.

We are eager to serve you the best we can. For assistance please send us a message and one of our representatives will be more than happy to provide you with the best possible service.